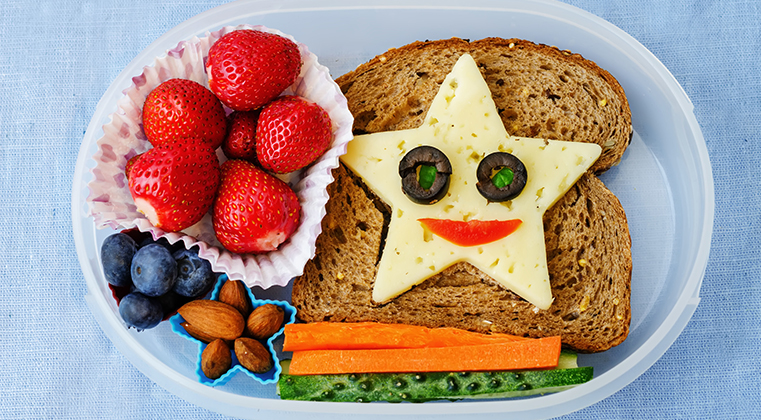 In 2020 we are constantly being advised of the Rule of 6. The things you can or cannot do to stay safe. That very much applies when you want to have a safe and clean kitchen or food preparation area. There are in fact more than 6 rules when it comes to Food Hygiene, but hey, it's a current theme.
Think about personal hygiene- wash your hands
Wash raw fruit and vegetables
Temperatures
Cook food properly
Avoid cross contamination
Keep surfaces clean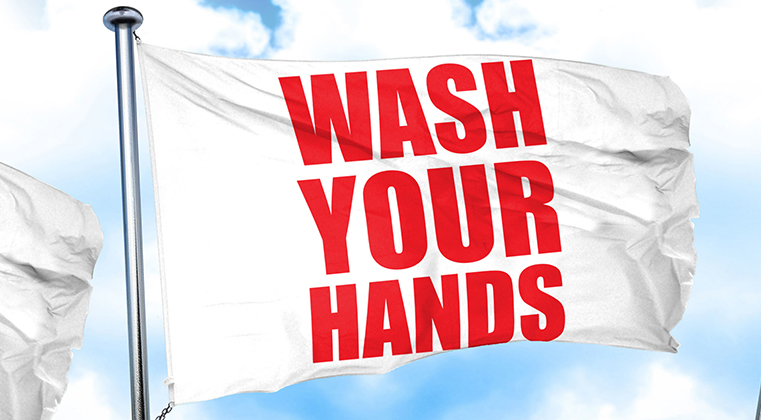 How to best put these rules into practice
Well, we all know how to wash our hands or do we?  Now more than ever, we need to wash our hands both before and after handling any kind of food.  Bacteria spreads easily with physical contact, so by washing your hands, you are reducing the likelihood that bacteria will spread.   Tie back your hair, there can be nothing worse than getting part way through a meal, when you discover a hair!  It's also worth ensuring your clothes are also clean.  Kitchen staff wear catering garments for a reason – to prevent contamination from the outside world getting into the work place. At home, when you get in, spend a few minutes to change your clothes, surely you're not that hungry that food can't wait for just a few minutes?
Wash your fruit and vegetable thoroughly. Nothing is healthier or more natural than some fresh fruit and vegetables. However, natural does not mean clean or free from anything harmful. E-coli, parasites and many other nasties can be lurking amongst the contents of your healthy looking veg box. Green leafy vegetables in particular are a regular culprit for harbouring unwanted guests.
Temperature – No not the feverish sort, although bad food hygiene could easily make you ill and cause you to have a temperature. We mean is your fridge working correctly? Get into the habit of clearing out your refrigerator at least once a week, to remove any expired food or leftover packaging. Wipe down your surfaces with warm soapy water and then return all food that hasn't expired in such an order that the meats are separate from the fruit and veg to prevent cross-contamination. It's always best to ensure food is stored in the correct containers and packaging to keep it fresh while in storage too.
Ensure food is cooked properly. Whether it is a meal you have made from scratch or a ready meal from the freezer, those cooking instructions are there for a reason. If you are cooking several things together, do they all need to be at the same temperature, will it take longer to cook if the oven is full? How many of us get in from work and just want something that will be ready in under half an hour.
Keep surfaces clean.  Again this might seem obvious, but it's surprising how often we neglect to clean our kitchen surfaces effectively. Wiping away spilled food or drink with a towel is not enough; at least once a day (but preferably much more, especially in these current times) be sure to wipe down all work surfaces in your kitchen with clean, warm, soapy water to prevent the spread of harmful bacteria.  Oh and make sure you regularly empty your kitchen bin.  These can attract flies and are a breeding ground for bacteria.  In fact if you can, do away with the kitchen bin, put waste straight into your outside bins if you can.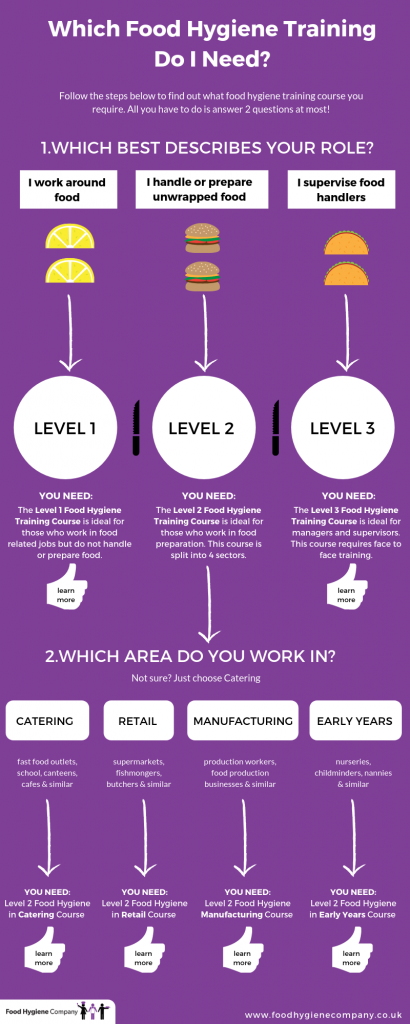 Could you benefit from taking a training course to improve your current knowledge?
Having a knowledge of basic food hygiene is of benefit to you even if you are just cooking for your family at home.
It is however, extremely important if you are making, preparing, serving or handling food in any way for a business.
Local councils are able to ban individuals from owning, operating, or being involved in a food-related business if they are found to be putting a risk to public health following an inspection.
While you can probably never be 100% certain of eliminating all potential hazards in your food preparation, you can certainly reach a level where you have taken all measures possible and shown diligence and care.
With training and then implementation of the procedures learned on the course you will be safeguarding your kitchen. When you are working with food, the safety of the public is both morally and legally paramount for your business.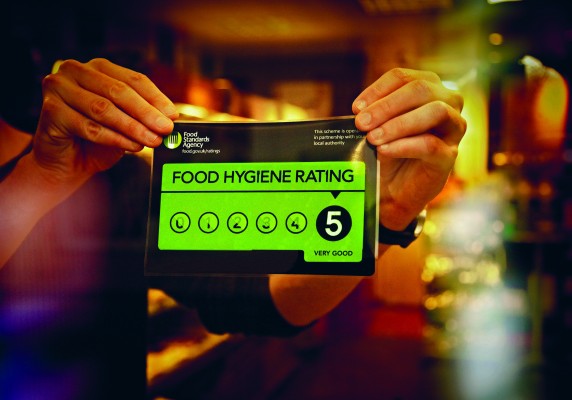 Our Level 1 food hygiene courses and Level 2 food hygiene courses can be taken entirely online within just 1 to 2 hours, and with the option to pause and restart the course as many times as you need to, these are our most flexible training option.
Purchase today and start training immediately. Your verifiable food hygiene certificate can be downloaded instantly upon successful completion.
Alternatively, if you would like to arrange food hygiene Level 3 training in a face-to-face capacity, please give our friendly customer support team a call on 01327 552136 or email us at help@foodhygienecompany.co.uk to find out our trainers' availability.
For greater convenience, you can even chat to our customer support team via the live chat feature right here on this website during office hours.