Level 2 Food Hygiene & Safety in Catering
Conference Offer - Get 20% discount off using the code CONF20 at the checkout (expires 31 October 2022)
The Level 2 Food Hygiene Catering course is specifically designed for those who prepare or work with food in the catering industry as well as out-of-school clubs, schools and workplace kitchens. This food hygiene course focuses on the importance of hygienic food handling, HACCP, best practice for hygiene and what is required by law to meet food safety standards.
Get started with this online course today to achieve your Level 2 Food Hygiene Certificate in catering!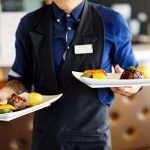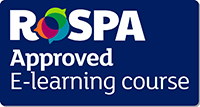 5+ courses - Save 5%
10+ courses - Save 10%
20+ courses - Save 15%
50+ courses - Save 20%
100+ courses - Save 30%
Volume discount applied at checkout
This unique business tool provides a range of useful information including:
A prediction as to when your next food hygiene inspection is due
Other similar businesses close by i.e. your direct competition, with their ratings
Other food businesses close by i.e. potential indirect competition, with their ratings
A map of where the competition is located
Previous food hygiene inspection history for your business
Details of other food businesses who traded at the address before you
Previous inspections at the same postcode i.e. businesses coming and going in the same location
Local authority information and how your business compares locally and nationally
Local area information, including household numbers, population, level of deprivation and average income.  This will show you how many people are potential clients locally and how much money they've got to spend
Total Cost (ex VAT)
£15.00
£135.00
£255.00
£600.00
£843.75
£1,050.00
Total Cost (inc VAT)
£18.00
£162.00
£306.00
£720.00
£1,012.50
£1,260.00
Cost Per Course (ex VAT)
£15.00
£13.50
£12.75
£12.00
£11.25
£10.50
Number of Courses:
1
Total Cost (ex VAT): £15.00
Total Cost (inc VAT): £18.00
Cost Per Course (ex VAT): £15.00
Number of Courses:
10
Total Cost (ex VAT): £135.00
Total Cost (inc VAT): £162.00
Cost Per Course (ex VAT): £13.50
Number of Courses:
20
Total Cost (ex VAT): £255.00
Total Cost (inc VAT): £306.00
Cost Per Course (ex VAT): £12.75
Number of Courses:
50
Total Cost (ex VAT): £600.00
Total Cost (inc VAT): £720.00
Cost Per Course (ex VAT): £12.00
Number of Courses:
75
Total Cost (ex VAT): £843.75
Total Cost (inc VAT): £1,012.50
Cost Per Course (ex VAT): £11.25
Number of Courses:
100
Total Cost (ex VAT): £1,050.00
Total Cost (inc VAT): £1,260.00
Cost Per Course (ex VAT): £10.50
The Level 2 Food Hygiene Catering Course is Suitable For:
Key Features of the Level 2 Food Hygiene & Safety Catering Course
Management System
Our online learning management system has been built to solve the problem of maintaining central records and ensuring that everyone's training is current and up to date. If an inspecting body wants to check your records, simply use our website to display a full record of staff training certificates.
You can also set up automatic reminder emails to ask your users to take or retake training. You can tailor these emails and the timings for sending and you can even specify that the email appears to come from yourself. Once enabled, the training system will manage all of the chasing for you.
Instant access to courses
Training can be taken any time - no need for staff to take time out of the kitchen
Takes between 1-2 hours to complete
Courses can be taken 24/7 online or on mobile devices
Less expensive than face-to-face training
No need to take time out of work to undertake training
No requirements for maximum or minimum group sizes
Retrieve centrally held online certificates at the touch of a button
Downloadable Excel reports so you can monitor completion
Individual, personalised certificates can be downloaded and printed
Automated reminders when training is due for renewal
Courses can be stopped and restarted at any point
Course notes and resources available for the duration of certification
Friendly, UK-based customer support centre in case you have any queries
Downloadable Excel reports for organisations to monitor everyone's progress
Scenarios, content and questions are keyed to specific sectors
Course regularly updated and checked for current practice
Covers the inspection expectation for Food Hygiene training at Level 2
"Great course! It opened my mind up to a lot of interesting facts and useful tips to use when preparing food that I wouldn't have stopped to think about otherwise."
Bryony Granger
This training will introduce you to the importance of good food hygiene practice in the catering workplace. At the end of the module, you will:
Be aware of what food hygiene and food safety are
Be able to recognise common food hazards and how to prevent them
Understand the importance of personal hygiene when in contact with food and food preparation areas
Be aware of the different cleaning and disinfection methods and how these should be used in the workplace
Understand what food poisoning is and how it can be prevented
Know how to prevent pests
Be able to demonstrate an understanding of how food safety laws and legislation apply to individuals in the workplace
This course is perfect for all food handlers in a non-supervisory role.
This does not form part of your final assessment, it is just a few catering based scenarios for you to consider to start you thinking about food hygiene in context.
This module will introduce you to the basic concepts of what food hygiene is and what some of the key terms such as 'food handler' mean. There will also be an introduction to the legislation that applies to those who work as food handlers and a discussion of the consequences of poor food hygiene and benefits of good practice.
In this module, you will study hazards you may find in the preparation of food. You will look at the four main groups that could constitute hazard before moving on to look at bacteria and the danger they can present. The module also looks at the main allergens and the importance of knowing safe cooking and storage temperatures.
Poor hygiene can play a significant role in the way a virus spreads. The Covid-19 pandemic has shown how important good hygiene routines are when it comes to virus prevention. This module will consider the prevention of viral contamination, in both an individual case and the wider context of food service.
Suffering from food poisoning is unpleasant for anyone. For some people, though, it can be potentially deadly. As someone working in food preparation, you will need to understand the way that food can become dangerous, know the common symptoms of food poisoning and understand how it can be prevented.
Having clean hands and uncontaminated clothing can go a long way towards preventing hygiene issues. This module looks at what cleaning methods should be applied and when it is important to maintain personal hygiene. Other considerations such as protective clothing and staff hygiene rules will also make up part of the learning.
This module looks at the methods that can be employed to clean and disinfect the areas where food is prepared and stored. The correct use of cleaning fluids and other materials will help in maintaining a safe food environment. The importance of cleaning schedules and a stage cleaning process are also part of this module.
An invasion of pests can be more than a nuisance - it can be health hazard. The presence of some pests can even result in the closure of a business. This module will look at the common pests and how you can reduce the risk of infestation.
This is the final module of the teaching element of the course and it deals with the important subject of food safety management. When you are inspected, the inspecting officer will want to see that you have up to date, accurate records of your food safety regimen and that potential hazards are under control. The module will help you to comply with your legal requirements and inform you of what penalties you will face if you do not.
This is where you will apply the knowledge you have gained and, once you have passed your final assessment, obtain your certificate. Don't worry, though - if things don't go quite as you wish the first time, you can retake the assessment as many times as you like.
There is a module feedback questionnaire and some useful downloadable material in this section for you to use to help implement your food hygiene practice.
Certification
Upon successful completion of the food hygiene course, you'll be able to download a personalised training course certificate valid for 2 years.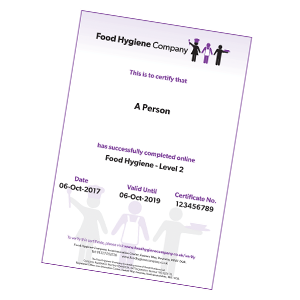 It is a requirement that any staff involved in the preparation or handling of food should be trained appropriately for their role and that they can demonstrate this during an inspection. For many businesses, the most convenient and cost effective way of completing this training is online.
The Level 2 course will provide you with suitable training to handle food safely in a catering environment. A certificate of completion should be enough to evidence that you or your staff have the necessary knowledge to work safely in the catering environment. However, suitable training is only part of the inspection, so you will need to understand your other responsibilities. Your local council will be able to offer more specific information on what else they require.
Yes. Once you have successfully met the pass requirements and completed the course, you can download your personalised certificate. You can re-take the course as often as you like.
There is no defined point at which you need to re-take your training. The most common re-take period is 2 years and we will send you a gentle reminder in plenty of time.
This training course has been approved by The Royal Society for the Prevention of Accidents (RoSPA).
Need more information about our Level 2 Food Hygiene training?
Don't hesitate to contact us. Our customer service representatives are happy to help!