Level 3 Food Hygiene and Safety
£295 + VAT per person (2 day course)
The Level 3 Food Hygiene and Safety course is designed for managers and supervisors who need a broad understanding of food safety control, and who have responsibility for developing and maintaining a food safety management system. It is recommended that all food environments should have at least one person trained to this level.
If you are unsure on whether you need to take the Level 3 food hygiene course, please view our infographic for guidance.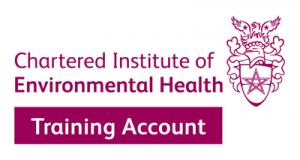 Key Features of the Level 3 Food Hygiene and Safety
Who Should Take This Course?
Topics include:
The key terms for food safety
The importance of food safety
Vulnerable groups of people
Responsibilities for keeping food safe
Enforcement of food safety legislation
Topics include:
Microbial contamination
Food-borne illness
Food poisoning from metals
Poisonous plants
Poisonous fish
Allergenic contamination
Physical contamination
Chemical contamination
Food spoilage
Topics include:
Time and temperature control
Personal hygiene
Premises hygiene
Waste disposal
Premises requirements
Food pests
Purchasing, delivery, storage and stock control
Traceability
Food recalls
Dealing with an outbreak of food-borne illness
Managing complaints
Topics include:
HACCP
Food safety management systems in catering and retail
Topics include:
Induction training
Ongoing training
Refresher training
Training records
Effective communication of food safety procedures
The Level 3 Food Hygiene and Safety
This is a 2-day face to face training course designed for supervisors or those who wish to move to a supervisory role in a food preparation environment.
The food service market a is highly competitive one. Factors such as your food hygiene rating and the quality of your food preparation, as well as your front of house service can be the difference between success and failure. More to the point, as a provider of high quality food, you want to ensure that you are the very best you can be.  Your customers may only see the front of house but, as you know, being the best begins in the kitchen.
It is vital that your Environmental Health Officer and Management Team have the confidence that your staff are trained to a suitable level and every food worker from a kitchen porter to head chef should be able to prove their understanding of food safety. However, what every manager knows, is that the best trained team in the world will still struggle without effective leadership. A level 3 food safety supervision course is about more than an advanced understanding of hygiene, it is also very much about effective and confident management of the food chain and the compliance of the staff who work with you.
With a level 3 course you will gain:
The advanced understanding that leads to a 5-star hygiene rating
Professional practice in food safety management systems
The detailed understanding you need on food safety hazards to ensure your staff are keeping up effective hygiene processes
Detailed knowledge of HACCP and legislation
Just as importantly though you will gain the confidence and knowledge to lead and support your team in safe practice to ensure that efficiency and the expectation of excellence are part of your daily routine. Having a level 3 trained supervisor is a big step on the way to something that all food service businesses want to achieve – a clean, safe and effective, 5 star rated kitchen that produces the best food possible.
Our trainer for the Daventry based training courses has worked in the food industry for over 30 years.
A member of the Chartered Institute of Environmental Health (CIEH) with access to the latest food safety information and trends, they have been a registered CIEH trainer since 2000 and have delivered exceptional pass rates for CIEH examinations.
Enthusiastic and energetic with a professional, friendly, approachable style they not only enable delegates to achieve Level 3 certification but also embed food safety knowledge to positively influence food safety culture when delegates return to their workplace.
The Level 3 course will provide you with suitable training to supervise staff in the safe handling of food in catering, retail or manufacturing.  The course is accredited by the Chartered Institute of Environmental Health, so you can be assured of its credentials.
Taking this course can not guarantee you a 5 star food hygiene rating but if you utilise the knowledge you'll learn and put it in to practice, you'll be well prepared for any visit by Environmental Health.  
Yes. Once you have successfully met the pass requirements and completed the course, you will be sent an electronic personalised certificate. 
There is no defined point at which you need to re-take your training. The most common re-take period is 3 years and we will send you a gentle reminder in plenty of time.
This training course has been approved by The Chartered Institute of Environmental Health.
The Chartered Institute of Environmental Health (CIEH) is the membership and awarding body for the environmental health sector. Founded in 1883, it has been instrumental in developing many of the environmental standards that have contributed to better public health and wellbeing globally.
If you provide 6 weeks notice, you will receive a full refund.  Unfortunately, no refunds can be made if less than 6 weeks notice is given.  All cancellations must be made in writing to hello@smarthorizons.co.uk
The training course is delivered from our Daventry office:
Icon Innovation Centre,
Eastern Way,
Daventry,
Northamptonshire,
NN11 0QB.
There is plenty of free parking available.
There is plenty of free parking available, either adjacent to the building or in the underground carpark opposite the building.  There are specific parking spaces allocated for iCon building users/visitors.
There is disabled parking directly below the building, with lift access.
Lunch and refreshments (tea/coffee) will be provided on both days.
If you have any specific dietary requirements, please let us know and we'll do our best to accommodate you.
At the end of the two days, you will need to sit a short 40 question multiple choice test.  The pass mark is 28/40.
Genuine reviews
We use an independent third-party organisation to capture our reviews, so you can be assured that all our reviews are from genuine customers.
Certification
Upon successful completion of the Level 3 Food Safety Supervision course, you'll receive an electronic personalised training course certificate.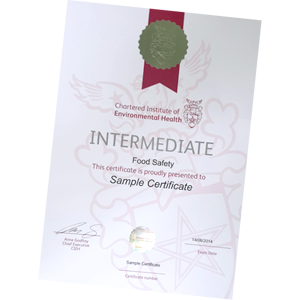 Why use our Learning Management System?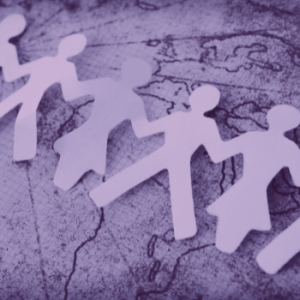 Call us today at 01327 552136!
Or, alternatively: