Level 1 Food Hygiene Course
£9.95 + VAT per course
Discounts apply for multiple purchases, see pricing table below
The Level 1 Food Hygiene course is perfect for those who work in food-related job roles but do not handle or prepare raw food. This basic food hygiene course focuses on the importance of personal hygiene, food hazards, effective cleaning, and the basic legal requirements of meeting food safety standards. Get started online today and collect your level 1 food hygiene certificate with us!
If you are unsure on whether you need to take the Level 1 food hygiene course, please view our infographic for guidance.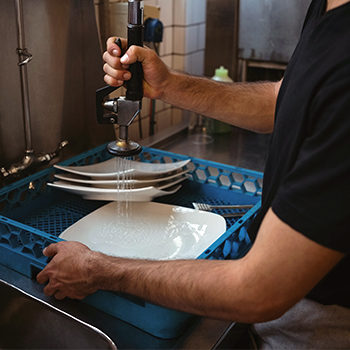 Level 1 Food Hygiene Training is Suitable For:
Key Features of the Level 1 Food Hygiene Certificate
Management System
Our online learning management system has been built to solve the problem of maintaining central records and ensuring that everyone's training is current and up to date. If an inspecting body wants to check your records, simply use our website to display a full record of staff training certificates.
You can also set up automatic reminder emails to ask your users to take or retake training. You can tailor these emails and the timings for sending and you can even specify that the email appears to come from yourself. Once enabled, the training system will manage all of the chasing for you.
Instant access to courses
Training can be taken any time - no need for staff to take time out of the kitchen
Takes between 1-2 hours to complete
Courses can be taken 24/7 online or on mobile devices
Less expensive than face-to-face training
No need to take time out of work to undertake training
No requirements for maximum or minimum group sizes
Retrieve centrally held online certificates at the touch of a button
Downloadable Excel reports so you can monitor completion
Individual, personalised certificates can be downloaded and printed
Automated reminders when training is due for renewal
Courses can be stopped and restarted at any point
Course notes and resources available for the duration of certification
Friendly, UK-based customer support centre in case you have any queries
Downloadable Excel reports for organisations to monitor everyone's progress
"Great course! It opened my mind up to a lot of interesting facts and useful tips."
Bryony Granger
This module will explain what it is that you will learn in the course and explain how the learning system works.
This module will: 
Explain who this course is for
Tell you why you need training
Explain what sort of things you will learn
It is important you are trained to the right level for your role so this module will give you some idea of the kind of job roles that are suitable for level 1 training. It will then explain the importance of food training using some examples of where there have been serious food-related incidents.
This module will:
Look at why personal hygiene is important
Give you some tips on maintaining hygiene
Talk about the best washing method
Look at why workwear is important
Most cases of food poisoning are preventable by simple measures such as good hygiene practice and ensuring standards of cleanliness are maintained. This module introduces you to effective personal hygiene and the importance of workwear when around food.
In this module you will learn:
What we mean by food poisoning
About the 4 risk groups
How to avoid cross contamination
How to reduce the risk of food poisoning
What we can do to spot a possible hazard
To prevent food poisoning we must first understand how it happens. This module looks at the most common causes of food poisoning and how we can identify other hazards. Prevention is the best cure so this module is aimed at making you aware of the dangers so you can stop them before they happen.
This module will:
Explain why cleaning and disinfection is important
Explain the function of different items of cleaning equipment
Detail the stages involved in 4 and 6 stage cleaning
Cleaning properly will help reduce the risk of bacterial growth and make the work environment a safer, more pleasant place to be. It is important to use the right techniques when cleaning or it is not as effective as you would like. This module introduces some of the basic methods of ensuring a good cleaning regime is in place.
This module will:
Define HACCP
Explain the role of Environmental Health Officers (EHOs)
Tell you what you need to know about the legal position
This final module will give you an overview of your role in maintaining a legal and safe workplace. It will also introduce the HACCP (Hazard Analysis and Critical Control Points) system.
This is where you will apply the knowledge you have gained and, once you have passed your final assessment, obtain your certificate. Don't worry, though - if things don't go quite as you wish the first time, you can retake the assessment as many times as you like.
There is a module feedback questionnaire and some useful downloadable material in this section for you to use to help implement your food hygiene practice.
Certification
Upon successful completion of the food hygiene course, you'll be able to download a personalised training course certificate valid for 2 years.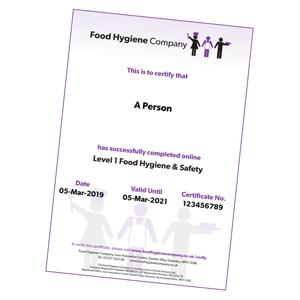 Total Cost (ex VAT)
£9.95
£17.70
£39.00
£70.00
£133.00
£600.00
Total Cost (inc VAT)
£11.94
£21.24
£46.80
£84.00
£159.60
£720.00
Cost Per Course (ex VAT)
£9.95
£8.85
£7.80
£7.00
£6.65
£6.00
Number of Courses:
1
Total Cost (ex VAT): £9.95
Total Cost (inc VAT): £11.94
Cost Per Course (ex VAT): £9.95
Number of Courses:
2
Total Cost (ex VAT): £17.70
Total Cost (inc VAT): £21.24
Cost Per Course (ex VAT): £8.85
Number of Courses:
5
Total Cost (ex VAT): £39.00
Total Cost (inc VAT): £46.80
Cost Per Course (ex VAT): £7.80
Number of Courses:
10
Total Cost (ex VAT): £70.00
Total Cost (inc VAT): £84.00
Cost Per Course (ex VAT): £7.00
Number of Courses:
20
Total Cost (ex VAT): £133.00
Total Cost (inc VAT): £159.60
Cost Per Course (ex VAT): £6.65
Number of Courses:
100
Total Cost (ex VAT): £600.00
Total Cost (inc VAT): £720.00
Cost Per Course (ex VAT): £6.00
No, you should take level 2 if you are involved in the preparation of food in any way. This course is suitable for those who work around food but not directly with the preparation or handling of food. If you could be classed as a food handler, someone who works with raw ingredients or handles open food to be sold to the public for example, then you should take level 2 training.
The Level 1 course will provide you with suitable training to work in a job role that does not require you to handle open or raw food or prepare food in any way. This course is suitable for job roles such as
Warehouse staff
Stock assistants
Kitchen porters
And any similar role that does not deal directly with open or raw food.
A certificate of completion should be enough to evidence that you have taken the basic training. However, suitable training is only part of the inspection, so you will need to understand your other responsibilities. Your local council will be able to offer more specific information on what else they require.
If you are in any doubt about whether this is a suitable course for your job role consider taking a level 2 course.
Yes. Once you have successfully met the pass requirements and completed the course, you can download your personalised certificate. You can re-take the course as often as you like if you fail to pass the first time.
There is no defined point at which you need to re-take your training. The most common re-take period is 2 years and we will send you a gentle reminder in plenty of time.