Food Hygiene in Care Homes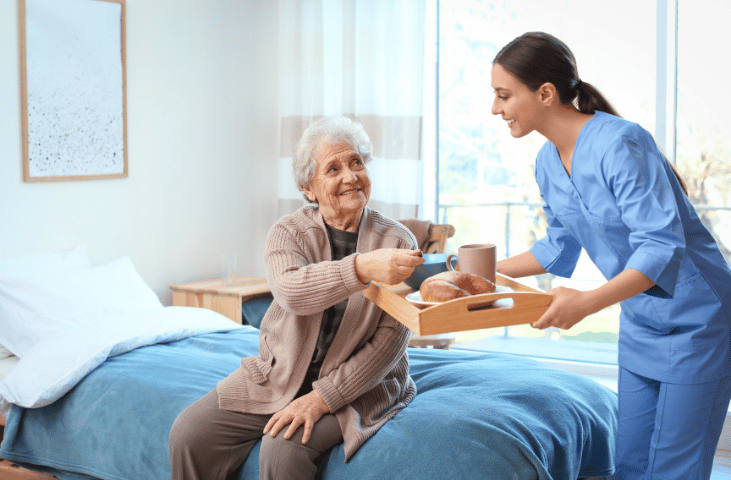 Food Hygiene in Care Homes
As a leading food hygiene training company, we understand the significance of maintaining excellent standards in any kitchen. Care homes are placed under just as much scrutiny when it comes to food hygiene standards as commercial kitchens.
In this blog, we will explore the key aspects of food hygiene in care homes, including why food hygiene is of particular importance, the key food safety best practices and an introduction to the framework of food hygiene regulations and guidelines that care homes need to adhere to. In addition, we will address some of the unique challenges that care homes face when it comes to food safety.
The importance of good food hygiene in care homes
Food hygiene in care homes is a hugely important aspect of ensuring the welfare and safety of residents, as often these are individuals who may be more vulnerable to foodborne illnesses and food hazards.
In 2021, the Food Standards Agency (FSA) found that more than 125 care homes had kitchens with unsafe food hygiene standards.
Older adults, individuals with underlying health conditions, or those with weakened immune systems are more susceptible to foodborne illnesses. Proper food hygiene practices minimise the risk of foodborne pathogens which can cause severe illnesses or complications in this vulnerable population.
As a result, care home staff have a duty to ensure that all of those in their care are not under threat from food poisoning and any other food-associated illnesses by the adoption of the highest possible standards of food hygiene, food storage, food preparation and food serving.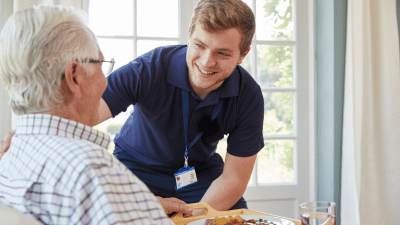 Applying food hygiene in care homes
Maintaining rigorous food hygiene in care homes is essential for safeguarding the health, well-being, and safety of residents. It contributes to a comfortable and nurturing environment where residents can enjoy meals with confidence.
By adhering to strict food hygiene practices, the risk of foodborne illnesses is minimised and associated complications, reducing the chances of care home residents falling ill and requiring medical intervention. Here are the considerations for applying good food hygiene in care home settings:
Protecting against Cross-Contamination – Cross-contamination is a significant concern in care homes, as residents may have specific dietary requirements or allergies. Below we have a detailed table of the best practices for avoiding cross contamination:
Preventing Outbreaks – Care homes are communal environments where infectious diseases can spread easily. Contaminated food is a potential source for outbreaks within the facility. Strict food hygiene measures, like the ones mentioned above, significantly reduce the risk of outbreaks caused by contaminated food, protecting the health of both residents and staff.
Compliance with Regulations and Standards – Care homes are subject to regulations and standards set by local authorities and regulatory bodies. The most important of these authorities is the Care Quality Commission (CQC), an independent regulator of social care in the UK – including care homes. The CQC was established as a result of the Health and Social Care Act 2008. All care homes must be registered with the CQC, and regular inspections and audits are conducted too by the regulator. CQC inspectors will assess the cleanliness of a care home's kitchen and identify any potential hazards, ensuring they have been addressed by staff. The CQC inspector, who will ensure that the care home has an effective Food Safety Management System, is guided by the legislation set out in the Food Safety (General Food Hygiene) Regulations 1995. These regulations set out many general food hygiene standards and states that "All food which is handled, stored, packaged, displayed and transported, shall be protected against any contamination likely to render the food unfit for human consumption, injurious to health or contaminated in such a way that it would be unreasonable to expect it to be consumed in that state." You can read more about various food hygiene legislation in our blog.
Maintaining personal hygiene – Caregivers and other staff are at the heart of a care home's operations and so must adhere to strict personal hygiene practices to minimize the risk of spreading infections. Implementing strict standards of regular handwashing, appropriate protective clothing, and adherence to infection control protocols are essential for maintaining food hygiene standards. The care home itself should have robust systems in place to monitor and review these practices regularly. This includes conducting internal audits, seeking feedback from residents, and responding to any concerns promptly.
Maintaining rigorous food hygiene in care homes is essential for safeguarding the health, well-being, and safety of residents. It contributes to a comfortable and nurturing environment where residents can enjoy meals with confidence, while reducing the risk of foodborne illnesses and associated complications.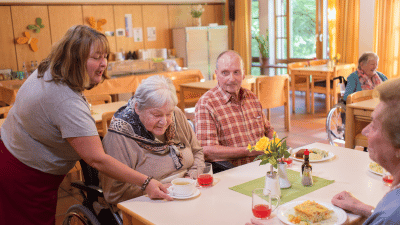 Food hygiene in care homes – specific considerations
Due to the vulnerable nature of their residents, there are specific aspects of food hygiene in care homes that staff must be aware of. In these environments, residents must be cared for so that they are not only safe but also comfortable, and this requires a bespoke, considered approach that must differ from individual to individual.
For example, care homes often cater to residents with specific dietary needs, including those with allergies, intolerances, or medical conditions. Staff must be knowledgeable about these requirements, properly label food, and ensure that cross-contamination is avoided.
Another aspect is the texture and delivery of food for residents who may not be able to feed themselves. Care homes may need to modify food textures for residents who have difficulty chewing or swallowing. On top of this, residents may require assistance with feeding. Caregivers must maintain strict hygiene during the feeding process, including hand hygiene and ensure that the feeding utensils are properly cleaned and sanitised.
By addressing these unique aspects of food hygiene in care homes, staff can ensure the safety and well-being of residents while providing them with nutritious and enjoyable meals. Maintaining impeccable food hygiene in care homes is crucial for promoting the health and safety of residents. By collectively adhering to regulations, implementing best practices, and addressing unique challenges care homes have, then care home residents can have happy and healthy lives.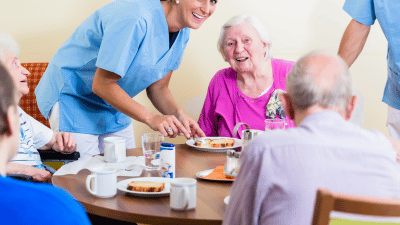 Food hygiene training for care home staff
Our online Level 2 Food Hygiene and Safety for Catering course helps care home staff, who handle and serve food, learn the skills to handle food safety, prevent and mitigate the risk of foodborne illnesses and create a culture of high food safety standards to keep their residents safe. You can also download a food hygiene certificate to evidence your training and all our certificates are RoSPA approved.

Our face to face Level 3 Food Hygiene and Safety course offers comprehensive training for care home managers and supervisors. It provides a broad understanding of food safety control and equips them with the necessary skills to develop and maintain an effective food safety management system.
If you need help in choosing a course that's right for you then our customer support team is always happy to help. You can call us on 01327 552136, email us, or use the contact form on this website to speak to us during office hours.
Related Links