Mastering the 'Clean As You Go' Policy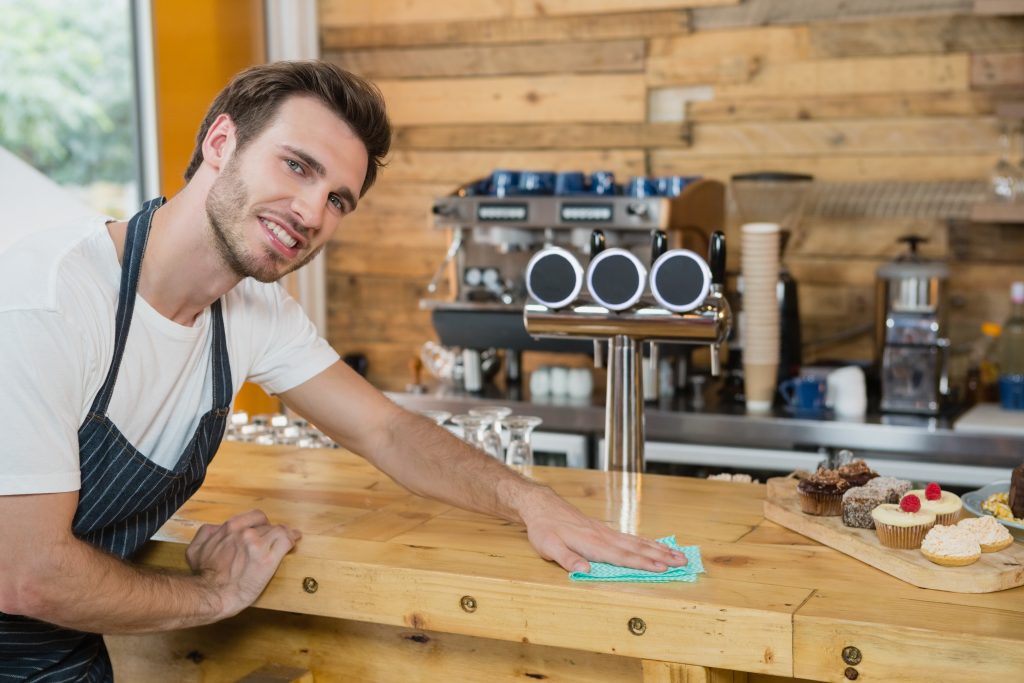 The 'clean as you go' policy is standard working practice in the food industry. It is one of the simplest, most reliable methods of meeting the food hygiene standards required by the Environmental Health Office (EHO).
What Is 'Clean As You Go'?
'Clean as you go' is a policy of responding to the cleaning needs of your work area as soon as is appropriate. Simple, really.
Next time you are out shopping, take a look around the bottom of the shelves and cold displays. You will often see a cleaning kit of some variety, stashed where it can be easily accessed.
We generally divide the policy into two categories: Immediate and Scheduled.
Spills and 'immediate' cleans – You have to respond to these incidents quickly, as they may form a hazard. This category includes liquid spills, broken items, trip hazards, dropped foodstuffs and similar incidents.
Daily or 'scheduled' cleans – These are part of the regular, specified cleaning schedule. It includes tasks such as daily emptying of the waste materials, disinfection and proper wiping of kitchen surfaces.
Some tasks have different levels of urgency, depending on the time of day, severity of the mess and a few other factors. Washing dishes, for example, and wiping surfaces, could hypothetically fall into both categories.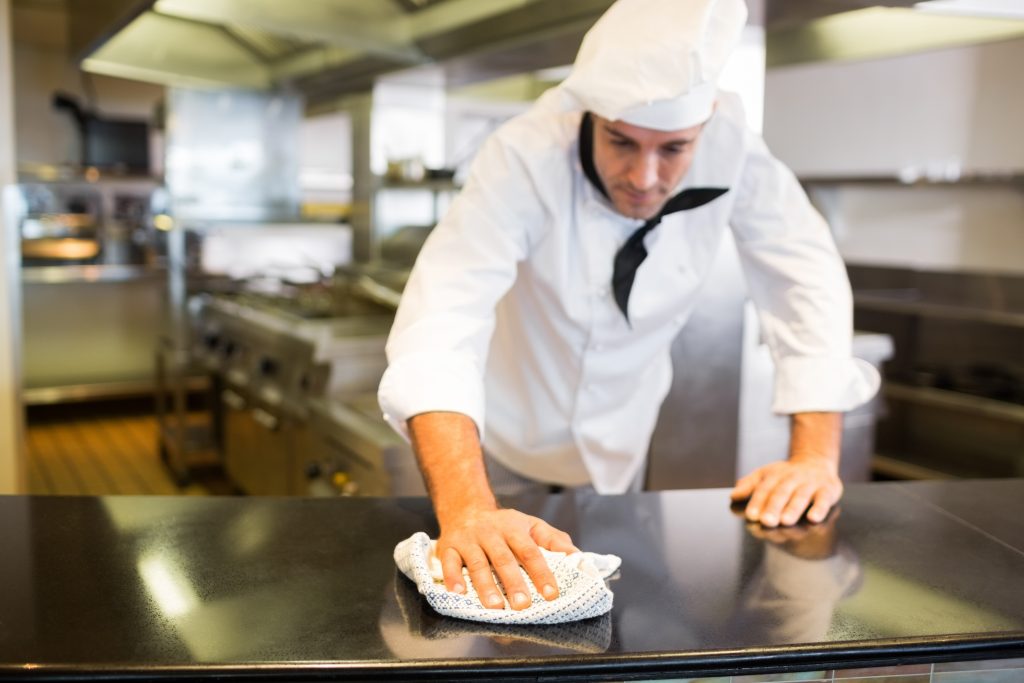 How Does It Work?
Your daily policy should clearly lay out the who, when and what of your daily schedules. Perhaps you could also put someone 'on duty', as a response to immediate messes. If you have large premises, you should have someone on 'claygo' duty in each area.
However, immediate cleaning is something you can't micromanage. You have to train your staff properly and expect that they will, almost by instinct, know how to react in the event of a hazardous spill or breakage. This level of training is something the Environmental Health Officer values as part of their 'confidence in management' assessment.
So, both current and new staff members should be familiar with the policy. Some other items of consideration for your schedules are:
When essential cleaning tasks should be completed
The correct disposal of refuse and when this should occur
Placement of standard cleaning equipment and spill kits
First concern areas such as food preparation surfaces and areas such as walkways and public areas that should be kept particularly clean and clear
The proper use of cleaning materials
That said, this is not a comprehensive list. In fact, you need to make sure the schedules are appropriate for your workplace's conditions and needs. 'Clean as you go', therefore, is a mindset for your team to adopt.
What items should I have in my 'immediate response' kit?
A big roll of absorbent paper towel
Rubbish sack or similar for waste materials
A suitable disinfectant cleaner or spray (which kind will depend on your circumstances)
Usually there will be some sort of absorbent substance to spread on spills. Sand or similar is the usual choice
Sponges and/or J-cloth type roll
Dustpan and brush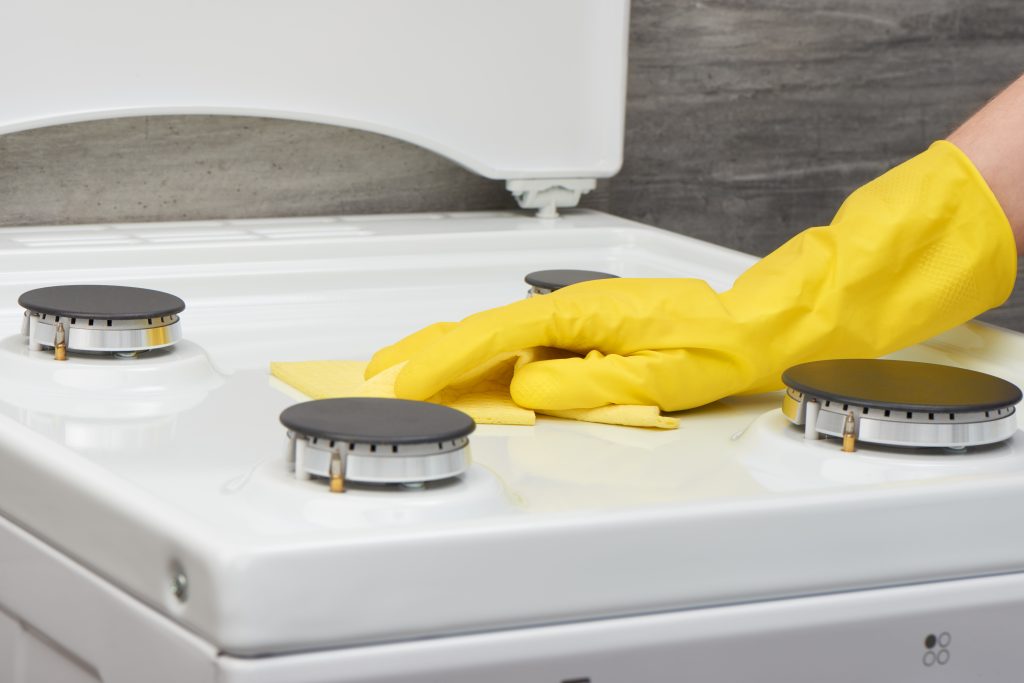 Equipment, Surfaces & Footfall Areas
You can reduce the risk of hidden bacterial development by regularly cleaning chopping boards, knives and kitchen surfaces. Furthermore, this consistent cleaning can prevent miniscule but potentially lethal amounts of common allergens from becoming a problem.
Additionally, you should create cleaning procedures for walkways and areas which are not actually part of the food preparation areas. These areas of transit can become hazardous, as they are often cluttered or subject to spills.
Want more information about food hygiene training?
This is just a small insight into cleaning procedures for a food business. There is a great deal more to understand in order to meet your legal requirements for food hygiene training.
You can take our Level 2 Food Hygiene courses, entirely online, in just 1 to 2 hours. Moreover, with the option to pause and restart the course as many times as you need, these are our most flexible training options.
Purchase today and start training immediately. You can download your verifiable food hygiene certificate immediately upon completion.
Our friendly customer support team is always happy to talk through your food hygiene training options. Why not give us a call on 01327 552136, email us at hello@smarthorizons.co.uk, or use the live chat feature on this website to speak to us during office hours. We're here to help from 9am to 5.30pm, Monday to Friday.