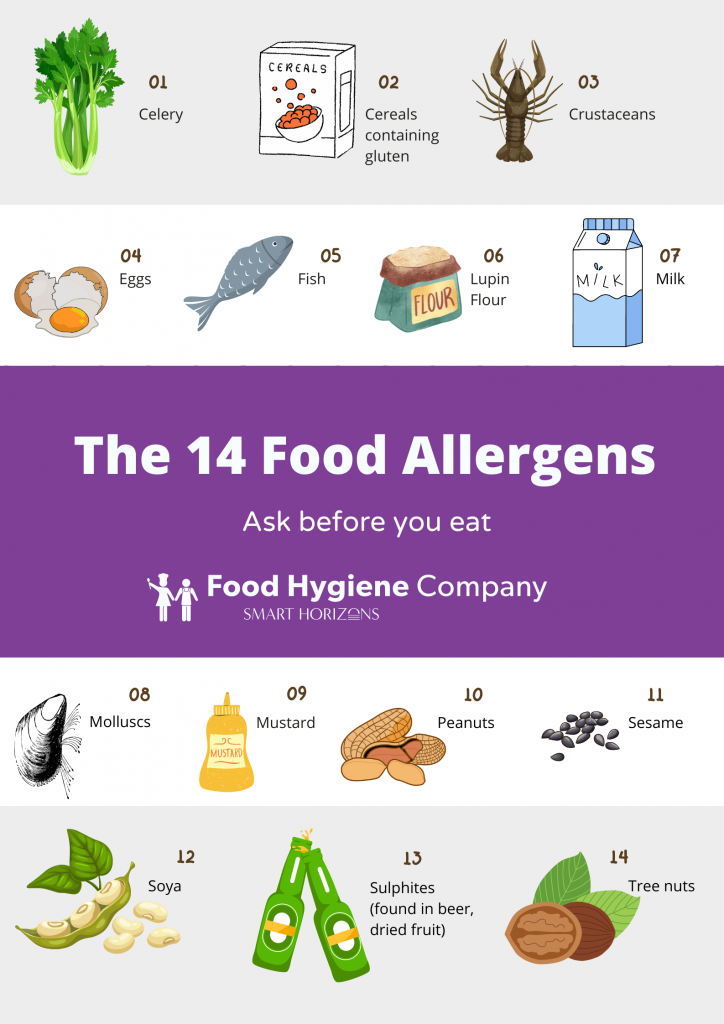 Estimated reading time: 5 minutes
Food Allergen Poster – Why You Need One
The responsibility for alerting customers to the presence of an allergen or potential cross-contamination is firmly with the food supplier. To make this process easier, we've created a free food allergen poster for you to pin up in the kitchen. It details the 14 major allergens, as listed by the UK Food Standards Agency. If these ingredients are part of or constitute a meal, you must notify the customer.
---
An Allergen Crisis
Why the emphasis on allergens? New research has shown that less than half of people in the UK trust food allergen labels to be correct.
The study shows that only 47% of people in the UK trust that the manufacturer or premises serving food has correctly identified all of the allergens in the product. On top of the lack of trust, the research also found that only 37% of respondents felt that they are more aware of food-based allergens now than they were a year ago. Overall knowledge of allergens is still relatively low. Other research results revealed:
53% said they would not be able to name any of the 14 food allergens under UK law.
20% only being able to name between one and three.
---
Natasha's Law
This comes only a year on from the introduction of Natasha's Law; which requires food businesses to include full ingredients labelling for direct sale foods. Natasha's Law was proposed after the tragic death of Natasha Ednan-Laperouse, a 15-year-old who died in 2016 after suffering an allergic reaction to sesame seeds that were baked into the dough of a baguette.
It is widely believed in food hygiene authorities that Natasha's Law is not being strictly adhered to like it should be.
Currently, UK restaurants must provide written information on allergies, but this doesn't have to be on the menu. It could be on a separate information pack or via a notice on display. There is still the threat of some allergens not being picked up.
As a result, people who live with extreme allergies often describe eating out as an "intense experience".
---
Highlighting Food Allergens
A Food Standards Agency (FSA) campaign from earlier this year encouraged young people to 'speak up for allergies'. This is because research shows that children and young people are at a higher risk of experiencing food allergy reactions.
While able to control their own food habits, eating out and ordering in means a lot of that control is taken away from people. The latter, ordering a takeaway, saw a sharp rise in popularity as a result of the pandemic. Takeaways businesses can often be some of the worst offenders when it comes to not labelling allergens correctly – if at all.
Chair of the FSA, Heather Hancock, wants the industry to promote allergy awareness: "Food businesses have an important part to play in making this age group feel more at ease. They are required always to provide accurate allergen information.
"Through campaign, we're raising awareness and understanding to boost the confidence of young people, and we're encouraging food businesses to make it easier for everyone to ask the question, speak up and help keep those at risk safe."
---
The Importance of a Food Allergen Poster
It is a legal obligation for food businesses to tell customers if their products contains or has traces of the 14 different allergens. Because this process starts with the staff at the business, it's useful to give them a point of reference to understand what they need to look out for.
The 14 allergens and where they can be found are as follows:
Celery – celery salt, salads, stock cubes, and soup.
Cereals containing gluten – wheat, rye, barley, oats, pasta, pastry, sauces, and anything that's dusted with flour.
Crustaceans – prawns, crabs, lobsters, and shrimp paste.
Eggs – cakes, mayonnaise, pasta and food brushed with egg.
Fish – fish products, relishes, salad dressing, and even Worcestershire sauce .
Lupin – lupin flour can be found in bread, pastries, and pasta.
Milk – anything food with a dairy base such as cream, cheese, butter, powered soups and sauces.
Molluscs – mussels and oysters, particularly anything containing oyster sauce.
Mustard – liquid or powdered mustard can be found in curries, meat products, sauces and soups.
Peanuts – found in biscuits, cakes, desserts, sauces and groundnut oil.
Sesame – can be used or have traces in breadsticks, houmous, and tahini.
Soya ­– bean curd, miso paste, textured soya protein, tofu, as a well as a range of vegetarian products.
Sulphur dioxide and sulphites – raisins, dried apricots, meat products, soft drinks, vegetables, and beer.
Tree nuts – refers to almonds, hazelnuts, walnuts, cashews, pistachios, and macadamia nuts etc.
Knowing all allergens and what foods they can appear in alleviates a lot of the risk of a tragedy like that which brought about Natasha's Law happening again.
However, a food allergen poster is not a food hygiene certificate. To ensure you're ready when the Environmental Health Office comes calling, your staff must take food hygiene training.
You can take our Level 2 Food Hygiene courses, entirely online, in just two hours. Moreover, with the option to pause and restart the course as many times as you need, these are our most flexible training options.
Purchase today and start training immediately. You can download your verifiable food hygiene certificate immediately upon completion.
---
Related Links