Secret World of Allergy Sufferers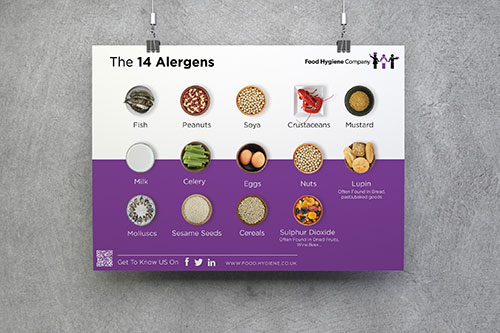 The importance of taking the lead when it comes to allergy information about your ingredients.
Way back in December 2014, when the new allergy laws came into force, there were printers chattering all over the country as everyone rushed to print out their 'If you need information on allergens…" signs. You still see them occasionally in cafes and fast food vans, the yellowing paper and steam melted ink making them look somewhere between a Rorschach test and a pirate treasure map.
The responsibility for alerting customers to the presence or possible cross-contamination danger of an allergen is firmly with the food supplier. Bold text on pre-packaged products clearly state the danger and in catering and some retail environments a general or specific sign is usually required.
Is that enough though? Is this one of those areas where the letter of the law may not actually reflect the true situation and perhaps industry should take the lead?
A 2018 survey by the Food Standards Agency (FSA) and two awareness groups seems to suggest that young people are less than forthcoming about their allergies and that perhaps food vendors should be doing more to proactively promote their allergy awareness.
ASK or potentially lose business
ASK is the mnemonic to remind food providers to ensure that they are attending to the issues of allergies and intolerances. The FSA, Allergy UK and the Anaphylaxis Campaign are hoping that servers will take a more pro-active approach and, rather than let the customer take the lead, ASK.
A – Always ask about allergies
S – Speak up
K – Keep safe
The survey revealed some disturbing trends amongst 16 – 24 year olds. Worryingly 14% were not confident at all about asking for allergy information. When you consider we are talking about a potentially life-threatening reaction to some commonly used products 14% seems remarkably high. The thought that for every 100 covers you provide to young diners, 14 are potentially playing Russian Roulette with their allergy causes chills does it not? Additionally:
5% of respondents with allergies did not tell people about it because they felt embarrassed or that it was too complex to explain
59% reported visiting the same restaurant repeatedly
only 9% contacted restaurants to check they provided allergy information.
So, the question this raises then is maybe not where the responsibility for displaying allergy information lies, the law is clear on that, but more what can be done to improve the situation and, what does the food industry need to do in response?
Chair of the FSA, Heather Hancock, wants industry to promote allergy awareness and states.
'Food businesses have an important part to play in making this age group feel more at ease. They are required always to provide accurate allergen information. Through our easy to ASK campaign, we're raising awareness and understanding to boost the confidence of young people, and we're encouraging food businesses to make it easier for everyone to ask the question, speak up and help keep those at risk safe.'
When you consider the results of the survey in the context of public health it seems clear that raising awareness is important but there is also another dimension to be considered. The 16 – 24 year old group are part of the regular customer base for many restaurants and are also the customers of the future. According to the survey 60% of young people with an allergy or intolerance had avoided eating out due to their condition in the prior six months and as mentioned earlier 59% also repeatedly use the same restaurant.
It seems reasonable then to assume that young diners will repeatedly eat at restaurants that hit the mark for them in terms of allergy awareness. Not only could ASK save one of your younger customers from a health issue but looking at the response to this survey, it could encourage loyalty to your business.